Hank Van THE POOL MAN – Swimming Pool Consultant
Hank Van THE POOL MAN Owner Operator : I am Hank Vanderpoll holding the following: NSW Builder's License 36425 and SA Builder's License 280705. I am approaching 40 years in the Swimming Pool Industry in Australia. Initially I trained as an installer of 'Pool Fab' domestic pre-engineered vinyl-lined swimming pools. It was at this time that Hank Van THE POOL MAN was formed. This was a particularly useful grounding for flexible PVC membrane lining/vinyl liner installations and there was a progression for me into the pool renovation market.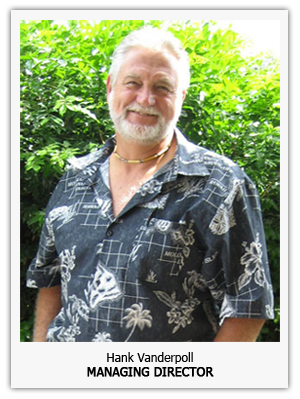 PVC membrane linings and other such membranes have been used to overcome many a leaking problem worldwide.
My advanced installation techniques allow for flexible waterproofing PVC membrane linings to be installed in all types of structures including concrete pools of all shapes and sizes both residential, commercial, pre-engineered, and fibreglass pools and many more applications including drinking water tanks, aquariums and industrial tanks.
My specialisation and concentration on the commercial swimming pool market over the past 20 odd years has meant training and working in overseas markets involving a large variety of products.
My membrane linings concept is also used for special events pools in Australia following similar trends worldwide.
My previous involvement with Myrtha Pools of Italy, who supply and install large and small commercial pools through their worldwide network of distributors, saw me as one of their senior technicians responsible for overseeing projects and training the installation staff of many of these distributors in 5 continents.
I was also a preferred contractor for the SkyPool system by Astral Pool from Spain for installations in Australia and in that capacity I have assisted South Pacific Pools of Adelaide South Australia in 2010-2011 with installation of 2 x 25 metres pools on the environmentally sensitive Gorgon Project on Barrow Island off Dampier in Western Australia.
More recently I have been involved in the installation of membrane linings into many council 50 metre and 25 metre pool facilities.
My focus is primarily is with the installation of membrane linings. Over time I worked on many council pools in Victoria and NSW installing membranes to overcome serious leaks which have existed for many years including Sea Lake, Beaufort, Mansfield, Charlton, Geelong and Mortlake as well as in NSW at Oberon, Portland, North Sydney as well as Swansea and Speers Point in the Lake Macquarie district.